The Sheep Shop
The home of sheep soft toys, collectables, gifts and bespoke sheep stationery.
Our collections include: Jolly Mah by Nici,Truffles by JellyCat Lambert by Aurora and Jomanda.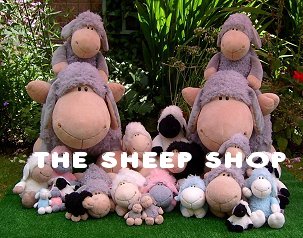 Prices:
All prices include VAT.
Methods of Payment:
We accept most major Credit and Debit cards and also offer Paypal at checkout.
Once your delivery details are confirmed you will be passed to the selected payment gateway. We do not store any of your card details.
Carriage:
Postage and Packing to mainland UK is charged at a flat rate of £4.50.
Dispatch:
Al items in stock are normally dispatched within 5 working days via Hermes.
Internet Security:
You are connected to our server via a 2048 bit secured SSL connection.
We do not keep any of your personal payment details.
Image Copyright (C):
We have built up our product portfolio using many of our own images. These are watermarked with our logo to prevent unautorised reproduction.